Sign up for Minsky's Texts and Never Miss a Deal! Just text "Gourmet" to 64600
Gourmet & Going To Stay That Way
From the moment you bite into one of Minsky's Zagat Award-winning gourmet pizzas, you'll understand why Minsky's has been voted "Kansas City's Best Pizza" time and time again. At Minsky's, "Gourmet, and going to stay that way" is more than just a slogan. Our savory pizzas begin with hand-rolled dough layered with generous portions of the finest meats, fresh-cut vegetables, aromatic herbs and topped with 100% Wisconsin mozzarella, then baked to perfection.
Every bite is loaded with flavor! Plus, we offer a gluten-free menu. Teamed with your favorite beverage from our full bar, we think you'll taste why locally-owned and operated Minsky's Pizza has been Kansas City's favorite neighborhood pizzeria for over 45 years. Visit one of our 17 KC Metro area Minsky's Pizza location or, when in Lawrence, stop by and see us at 9th and Mass!
Eat Well.
Live Better.
Gourmet Pizza requires the highest quality ingredients – and a passionate dedication to the art and craft of pizza making.
We make our crusts from scratch, several times each day – and we make them tastier (and healthier), with sea salt and olive oil. Handcrafted to order, we layer on generous portions of lean, choice meats, fresh-cut vegetables and your pick of dozens of fresh toppings. We top each gourmet masterpiece with 100% Wisconsin mozzarella, freshly shredded in-house and then baked to delicious, melted perfection.
At Minsky's we think pizza should be savored and enjoyed. So we never cut corners. As one customer put it, "Minsky's is one of life's most affordable luxuries." We couldn't agree more.
Eat well, live better. Enjoy the great taste of Minsky's.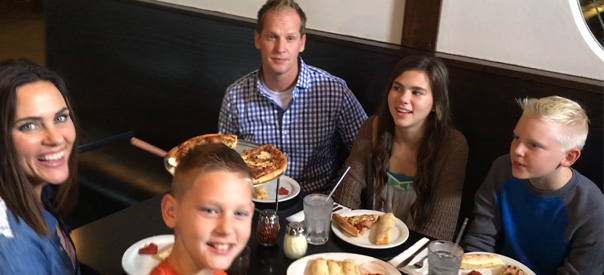 The service is always on point and the pizza is always scrumptious and it's really close to my house. Winning all around!

Sarah
Amazing pizza and service! No disappointments at all! Keep it up chefs and service staff!

Andrew
Outstanding service and excellent pizza...I have been going to Minsky's since the mid 1970s...always great fast service and such good pizza.

Barb
Best pizza I have had.. Well maybe ever! Very tasty food and good customer service. I will be back!

Matt
More Gourmet from our Sister Restaurants.
Osteria IL Centro Food and wine so good, it actually improves the conversation. This cozy casual-upscale Italian bistro presents a pleasing medley of pasta, meat, fish and vegetable dishes as well as the perfect wine to accompany. Repeatedly awarded Wine Spectator "Best of Award of Excellence." Open evenings at 4pm Monday through Saturday.
eggtc. Enjoy the finest and freshest gourmet breakfasts and lunches in our richly delightful rooms. Treat yourself to coffee delicacies made with prime Costa Rican blends, plus our event room is the perfect gathering place for your celebration or meeting. Two locations, 51st & Main Streets and Shawnee.
Tenderloin Grill The Best Tenders In Kansas City! Since 1932, the Tenderloin Grill has served up the best tenders in Kansas City. Hungry For More? Don't miss the Grill's delicious burgers, cheeseburgers, tend-urgers, fresh-cut and crinkle cut fries, onion rings, tater tots and more – along with a refreshing Mexican Coca Cola or other ice-cold flavored soda.