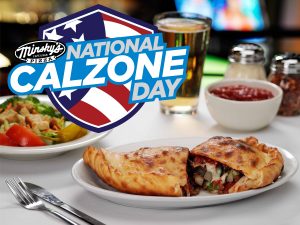 Minsky's has made it official – every November 1st is now National Calzone day in America! Minsky's has wanted to create a day for Calzones for a long time. After all, many lesser foods had their own day of recognition, why not the delicious Calzone?
With a mission in mind, we found the specific folks responsible for helping the world celebrate every day of the year, the people of National Day Calendar. We submitted the necessary request (in triplicate) – and waited.
After days of anticipation, Minsky's was thrilled when the founder of National Day Calendar, Marlo Anderson, called and said they had approved National Calzone Day!
To mark this great moment in history, Minsky's is celebrating National Calzone Day all this week! From November 1st through November 5th, Minsky's VIPs receive 25% off ALL Calzones. And to make the deal extra fantastic we're throwing in FREE BACON with every calzone. Just tell your server to "add the Farmland Bacon" (at NO extra charge!)
Don't miss your chance to make history! If you're not yet a Minsky's VIP, click here to sign up! We'll send you your coupon right away – and other great deals in the future!
If you'd like to order online, you don't need a coupon!
Just use online ordering code- Calzone25
Ordering more than one? Enter the code for each Calzone!
To add Free Farmland Bacon – Click "Meats" tab and select "Free Bacon"!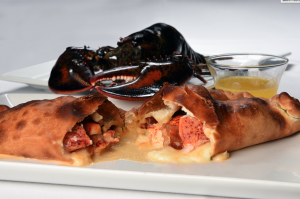 THERE'S MORE – THE DELUXE LOADED LOBSTER AND FARMLAND BACON CALZONE – AT MINSKY'S SOUTH PLAZA ONLY
That's not all, for calzone connoisseurs, Minsky's created a one of a kind Calzone luxury model: The Loaded Lobster and Farmland Bacon" Calzone. Yep, Minsky's has teamed up with the local bacon barons of Farmland Foods to add crispy and delicious Farmland Bacon to this masterpiece. "What else?!" you ask? How about lobster, shallots, 2 slices of Farmland Bacon, Asiago cheese, Crème Fraiche, red onion tarragon and cloves. Dee-licious. Sorry, the luxury model's not on special, this baby is priced at $17.99 – but taste it and you'll see why it's worth every penny!
Happy National Calzone Day!
The "Loaded Lobster and Farmland Bacon Calzone" is only available at the Minsky's South Plaza location. Offer good Tuesday, November 1 through Saturday, November 5, 2016 only. Dine in, carry out or delivery. Must print coupon or show on mobile device when dining in or carrying out. Discount taken before tax, alcohol not included. May not be combined with other discounts, promotions, or package deals.