Planning the perfect Thanksgiving meal calls for hours of planning and preparation. From side dishes and casseroles, to pies and (most importantly) the turkey – sometimes the most pressing question is, "What are we going to eat for dinner tonight?"
Take the stress out of the kitchen this Thanksgiving week by bringing home a Take & Bake Minsky's Pizza!
Just call ahead of time or swing by your neighborhood Minsky's location on your way home from work. We'll customize your gourmet masterpiece to perfection – stopping just shy of sending it through our ovens. You'll leave with your prepared Minsky's pizzas along with instructions for storing and cooking!
Minsky's Take & Bakes come in large size only (enough for even the hungriest of kitchen helpers). Build your own or choose from one of our Gourmet classics!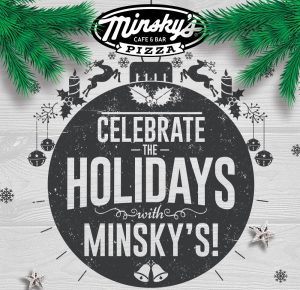 Add Kansas City's Best Pizza to your holiday mix this year with Minsky's Take & Bake Pizzas! Available for carry out in large size only at all Minsky's locations.
While you're at it, stock up on Minsky's gift cards for everyone on your holiday shopping list! We can't think of a better way to show your loved ones how much you care than with the gift of KC's Best Pizza.
Are you looking to host a holiday work party or family gathering? Check out Minsky's event spaces – we can create a menu that suits any occasion! OR let us bring Minsky's to you! No matter the group size, our fully heated catering truck is sure to accommodate. For more information, click here!
From all of us here at Minsky's, Happy Holidays!