Minsky's Makes Special Delivery to Kansas City Royals on Alex Gordon's Last Day!
During a widely viewed press conference interview last Thursday, Royals outfielder Alex Gordon discussed what a three-time All Star, seven-time Gold Glover with two World Series seasons and a World Series championship ring intends to do on his last day of work:
"Probably Minsky's pizza on the last day of the year … my kids have been begging me, so I'll probably binge a little bit of that on Sunday … all I've been thinking about is pizza."
Good news for Alex – and the rest of the Royals. Not only is Kansas City's World Series champion left fielder going to be eating Minsky's Pizza after his final game on Sunday, Sept. 27th, – his entire team will enjoy Minsky's as well.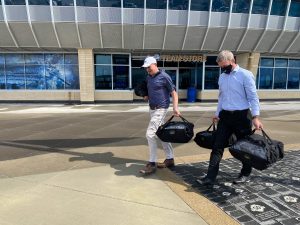 The Royals contacted Minsky's Pizza at South Plaza Friday, September 24, to place the order. The Minsky's Pizza crew got busy for a delivery of 21 of their gourmet best pizzas to Kauffman Stadium for consumption after their end-of-season game versus the Detroit Tigers Sunday, September 27. An order that include perennial Minsky's favorites like the Prime Cut, Jumbo Combo, Cheeseburger Pizza and, for any vegetarians in the clubhouse, Minsky's Nature's Choice on a cauliflower crust.
Minsky's threw in a few extras for Alex too, including an all-new custom engraved Minsky's Pizza stone (perfect for home cooking a Minsky's Take and Bake), along with Minsky's Charlie Hustle shirts, Minsky's Pizza Red wine, and also Minsky's Gift Cards – all the better for continuing a Minsky's binge well into baseball retirement.
In the press conference, Alex also mentioned enjoying a cold beer, so Minsky's sent along two cases of Minsky's Burlesque Lager and a case Minsky's Burlesque lager pint glasses for Alex and his teammates along with plenty of Minsky's T-shirts and other swag for players and Alex's wife and kids.
Said Minsky's founder and CEO Gregg Johnson about Alex's retirement, "Alex helped bring a World Series Championship back to Kansas City. It's nice to send a little something his way to say thanks for all he's done for KC."
Johnson, who founded Godfather's Pizza in Omaha before selling the chain and moving to  Kansas City to start Minsky's Pizza, continued, "We've always felt a special connection with Alex. Like him, we have roots in Omaha and have always had great support from Lincoln and the rest of the Husker nation. We couldn't be happier to see another Nebraskan have such an amazing career. We wish him the best in his retirement and hope to see he and his family at Minsky's often."