Guilt-free, gluten-free and full of flavor! For a limited time only, Minsky's is offering cauliflower crust as a healthful  option for any small gourmet pizza. All the health benefits – for just 2 bucks extra!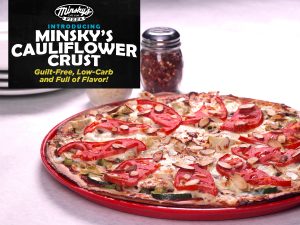 Pizza is one of life's tastiest luxuries that we believe everyone should be able to enjoy – even those on a gluten-free diet. Get the best of both worlds with Minsky's Cauliflower Crust!
At Minsky's we believe if you eat well, you will live better. Cauliflower pizza crust is a great alternative to regular pizza crust. It's higher in fiber and lower in calories! The best part? Our cauliflower crust tastes so delicious it's hard to believe it's healthy!
Try it for yourself! Substitute Minsky's Cauliflower Crust on any small gourmet pizza starting October 1st at all Minsky's locations.  Available in our small 10" size only. Click here to order now!
See nutrition information below.